From design to construction, including renovation or scheduled maintenance, SOCOFER applies its railway know-how
The infrastructure division includes all self-propelled, towed or modular machinery intended for the maintenance of tracks, catenary and railway infrastructure. The functions rendered are numerous and varied and range from cleaning to vacuuming, weeding, crane operation, measurement, control, rail welding and many other areas on specific customer request. The traction pole grouping together all the low and medium power railway traction units. SOCOFER offers various diesel, hydraulic, hydrostatic, electric or dual-mode solutions, for any type of gauge. SOCOFER also offers its services in the areas of rail maintenance and "rail-road" solutions by working with group companies
SOCOFER THROUGH TIME
The creation of the BILLARD establishments dates back to January 1920 from a general mechanics workshop, the first machines intended for the railways left the factory in 1922.
The development of the business necessitated the creation in 1928 of the "Société Anonyme des Anciens Etablissements BILLARD et Cie". It is dedicated to the construction of shunters, railcars and handcars for the French and African markets.
SOCOFER, created in 1965, takes over the BILLIARDS activity.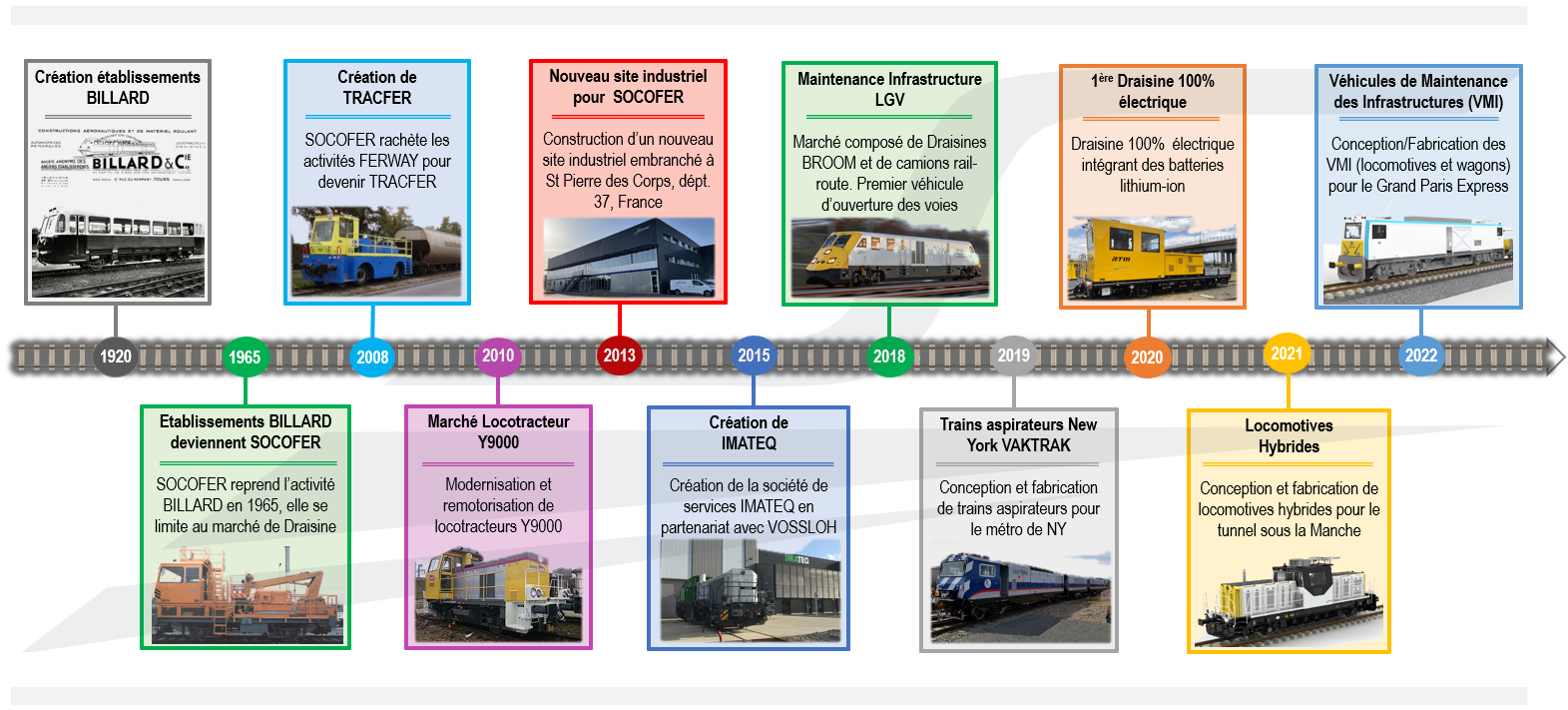 1965 – 1999
1965-1980 Railway activity is limited to the handcar market of the former French colonies of Black Africa.

1980-1990 The HALLE family takes over SOCOFER and develops the railway activity. Opening onto the metro market by developing vacuum trains in co-contracting with the company NEU.

1993 SOCOFER develops the "modular" concept for railway maintenance of EUROTUNNEL and RAILTRACK trains (Great Britain).

1999 Opening of a 4000 m² secondary establishment.
2000 – 2009
2000 SOCOFER enters the road-rail and rolling stock rehabilitation market.

2005 SOCOFER celebrates its 40th anniversary. Management is passed on to Mr Bertrand HALLE.

2008 Positioning on the market for maneuvering tractors and shunters through the purchase of FERWAY activities and creation of the TRACFER subsidiary.

2009 Award of a 100 million euro contract in a consortium with VOITH for the reconstruction of shunters.
2010 to present
2012 SOCOFER builds a new modern industrial production site with rapid access to major rail lines.

2015 Creation of the IMATEQ service company in partnership with VOSSLOH.

2021 Socofer designs and manufactures a fleet of hybrid locomotives for Eurotunnel for the maintenance of the Channel Tunnel.

2022 SOCOFER awarded the contract for VMI Locomotives (Infrastructure Maintenance Vehicles) for the Grand Paris Express, the largest urban rail project in Europe.
Passion for the profession drives all our employees, from design to the completion of the project.
Our teams rely on historical know-how while innovating on a daily basis.